Lo scopo del Cross+A è facilitare la risoluzione delle parole crociate, dei puzzle di parole, di anagrammi e dei puzzle di logica (Sudoku, Nonogrammi, Kakuro, Hitori, ecc.).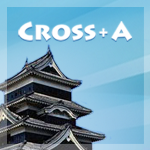 Il Cross+A è dotato di uno strumento di ricerca molto flessibile e potente. L'utente può cercare le parole inglesi per lettere conosciute e le descrizioni così come gli anagrammi e le combinazioni di parole. Il programma usa un dizionario di 159000 parole inglesi con le descrizioni di parole. Puoi modificare la base: aggiungere parole nuove, cancellare e modificare le descrizioni delle parole (anche controllare l'ortografia). L'utente può importare (aggiungere) alla base del programma parole dei propri file di testo e anche creare delle proprie basi. Sul sito trovi anche liste di parole di altre lingue da scaricare (tedesco, francese, italiano ed altri). Il programma contiene una lista di proverbi e modi di dire.
Scarica il file:
Versione:
Tipo di licenza: Shareware
Sistema operativo:
Lingue dell'interfaccia:
italiano, ceco, croato, finnico, francese, inglese, lettone, olandese, polacco,
romeno, russo, slovacco, spagnolo, tedesco, ucraino, ungherese
File di aiuto: francese, inglese, polacco, russo, tedesco
Rompicapo
Cross+A permette di risolvere e creare molti diversi rompicapi logici:
Sudoku


9 x 9, 6 x 6, 8 x 8, 10 x 10, 12 x 12, 15 x 15, 16 x 16, Sudoku X, Sudoku Argyll, Jigsaw Sudoku, Godoku (Wordoku), Sudoku Asterisco, Sudoku Girandola, Center Dot, Windoku, Sudoku-DG, Anti-Knight Sudoku, Anti-King Sudoku, Anti Diagonal Sudoku, Killer Sudoku, Sudoku Più/Meno, Sudoku Pari/Dispari, Sudoku +1, Kropki Sudoku, Sukaku, Chain Sudoku, Frame Sudoku, Skyscraper Sudoku, Tripod Sudoku, Sudoku Mine, Sujiken, Sudoku XV, Outside Sudoku, Rossini Sudoku, Little Killer Sudoku, Vudoku, Sandwich Sudoku, Sudoku Samurai, Sudoku Fiore, Sudoku Diamante, Sudoku Mulino (Kazaguruma), Sudoku Farfalla, Gattai-3, Twodoku, Triple Doku, Twin Corresponding Sudoku, Hoshi, Sudoku Stella, Tridoku.

Nonogramma ("Hanjie", "Griddler")
Kakuro ("Cross Sums")
Hitori
Slitherlink
Link-a-Pix ("Paint by Pairs")
Fill-a-Pix ("Mosaic")
Battaglia navale ("Battleships")
Hashi ("Hashiwokakero", "Bridges")
Masyu ("White Pearls and Black Pearls")
Akari ("Light Up")
Fillomino
Futoshiki ("Unequal")
Kuromasu ("Where is Black Cells?")
Nurikabe ("Islands in the Stream")
Sashikabe
Yajikabe
Campeggio ("Tents", "Tents and Trees")
Calcudoku
Hidato ("Hidoku")
Numbrix
Shikaku ("Divide by Squares")
Galassie ("Galaxies", "Tentai Show")
Grattacieli ("Skyscrapers")
Hakyuu ("Ripple Effect")
Grand Tour
Easy as ABC ("ABC End View")
Clouds ("Radar")
Yajilin ("Arrow Ring")
Campo minato ("Minesweeper")
Minesweeper Battleships ("Battlemines")
Heyawake
Tenner Grid ("From 1 to 10")
Cento ("Hundred")
Frecce ("Arrows")
Mathrax
Str8ts
Linesweeper
Binairo ("Tohu wa Vohu")
Muri ("Walls")
Dominosa
Patchwork ("Tatami")
Knossos
Rekuto
Vicini ("Neighbours")
Quattro venti ("Four Winds")
Shakashaka
Kakurasu
Mochikoro
Porte ("Seethrough", "Doors")
Fari ("Lighthouses")
Lighthouse Battleships
Tapa
Fobidoshi ("Forbidden Four")
Isola ("Island")
Dominion
Tren
Tre in fila ("No Four in a Row")
Corral
Foseruzu ("Four Cells")
Sutoreto ("Straight Cross")
Renban
Buraitoraito ("Bright Light")
Irasuto ("Illustration")
Suguru ("Number Blocks")
Trinudo
Baia ("Creek")
Gappy
Norinori
Yonmasu
Mattoni ("Bricks")
Catena di numeri ("Number Chain")
Kapetto ("Set Carpets")
Renkatsu
Eulero
Anraikumozaiku ("Unlike Mosaic")
Kurotto
Tasukuea
Star Battle
Araf
Kabingurodo ("Curving Road")
Termometri ("Thermometers")
Serpente ("Snake")
Peintoeria ("Paint Area")
Irupu ("I-Loop")
Sashigane
Chocona ("Cioccolato")
Vicini diversi ("Different Neighbours")
LITS
Nanbaboru ("Number Ball")
Tairupeinto ("Tile Paint")
Yin-Yang
Nanro
Luce e ombra ("Light and Shadow")
Arukone ("Number Link")
Tetroid
Sukima ("Sukimaburokku")
Triplets
Korekutokonekuto ("Correct Connection")
Doppelblock
Furisuri ("Free Three")
Yagit
Purenrupu ("Pure Loop")
Firumatto ("Fillmat")
Nawabari ("Territory")
Makaro
Dosun-Fuwari
Satogaeri
Koburin
Sukrokuro
Shirokuro
Roma
Bodaburokku ("Border Block")
Kuroshuto
Toichika
Usotatami
Pipelink
Hakoiri
Nuribou
Tatamibari
Sole e Luna ("Sun and Moon")
Kojun
Usowan
Gokigen Naname
Hebi-Ichigo
Hamle
Gyokuseki
Kin-Kon-Kan
Ichimaga
Shimaguni
Meadows
Yajisan-Kazusan
Snake Pit
Hiroimono
Water Fun
Round Trip
Number Cross
Santoitchi ("Tre e uno")
Hamusando ("Ham Sandwich")
Trace Numbers
Area Division
Sukoro
EntryExit
Sign In
Kuroshiro
Moonsun
Rectslider ("Rectangle-Slider")
Stostone
Kohi Gyunyu ("Coffee Milk")
Mirukuti ("Milk Tea")
Slash Pack
Nurimaze
Canal View
Country Road
Nondango
Mintonette
Arrow Maze
Arrow Web
Hanare
Oases
Rabbits and Trees
Stars and Arrows
Kanjo
Rukkuea ("Look-Air")
Golem Grad
Trilogy
Grades
Hukuwall
Nurimisaki
Starry Night
Douieru
Tetoron
Sasikaku
Heki
Castle Wall
Deddoanguru ("Dead Angle")
Endorain ("End Line")
Nuraf ("Araf Nurikabe")
Miti
Arofuro ("Arrow Flow")
Every Second Turn
Mobiriti ("Mobility")
Mubunanba ("Move Number")
Terra X
Rimotoejji ("Remote Edge")
Double Back
Wamuzu ("Worms")
Kaero
Kapama
Yunikumaka ("Unique Marker")
Meandering Numbers
Yokibunkatsu
Scrin ("Screen")
From 1 To X
Shingoki
Stitches
Neibadomino ("Neighbour Domino")
Jemini
Double Choco
Konarupu ("Corner Loop") nouvo!
Gaidoaro ("Guide Arrow") nouvo!
Word Finder
Nove lettere ("Nine Letters")
Ragnatela ("Spider Web")
Labirinto ("Maze")
Vocabolari
Puoi caricare liste di parole in:
Zingarelli 2005


Vocabolario della Lingua Italiana di Nicola Zingarelli (2005).



| | |
| --- | --- |
| Proverbi e modi di dire in: | Sinonimi ed antonimi in: |
Controllo ortografico
Per controllare l'ortografia il Cross+A utilizza i dizionari che fanno parte del prodotto Microsoft Office 97/2000. Se sul tuo computer non è installato il programma Microsoft Office o se c'è un'altra versione di questo programma installata, puoi scaricare il modulo di controllo ortografico dal nostro sito.
Hunspell (hunspell.github.io) è una libreria e un programma che implementa le funzionalità di un correttore ortografico ed analizzatore morfologico. La libreria è utilizzata da vari programmi come OpenOffice.org e LibreOffice.