Arofuro
Arofuro (Arrow Flow) is a logic puzzle invented by Naoki Inaba (Japan). A rectangular or square grid contains numbers in some cells. The aim is to place arrows pointing in four directions in each empty cell.
The same arrows cannot be placed in adjacent cells.
Starting with any cell with an arrow, following the arrows from cell to cell, a cell with a number can be reached.
A cell with a number indicates a total number of arrows that leads to this cell.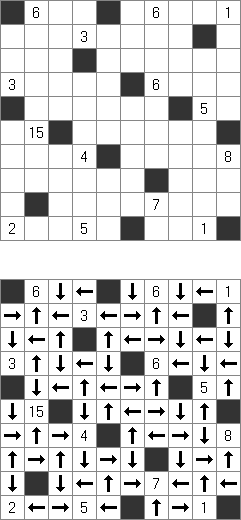 Cross+A peut résoudre les puzzles de 3 x 3 à 30 x 30. Puzzles sont enregistrés sous les fichiers avec l'extension *.ARRF.