Easy as ABC
Easy as ABC (ABC End View, Last Man Standing) est un casse-tête logique avec des lettres. L'objectif est de remplir la grille carrée avec des lettres latines (par exemple, allant de A à E) de sorte que chaque symbole ne figure qu'une seule fois sur chaque ligne et dans chaque colonne. Quelques cases de la grille peuvent être vides. Les lettres qui sont hors de la grille indiquent la première lettre qui apparaît sur la ligne (dans la colonne) appropriée.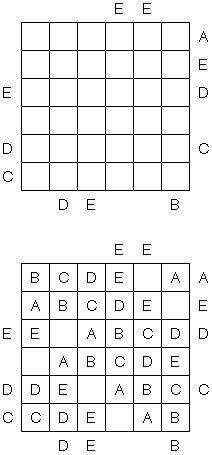 Cross+A peut résoudre les puzzles de 3 x 3 à 9 x 9. Puzzles sont enregistrés sous les fichiers avec l'extension *.ABC.
---
Not as Easy as ABC is a variation of Easy as ABC puzzle. The goal is to fill in the first letters of the alphabet on every row and every column exactly once. One cell in every row and every column remains empty. Letters and numbers on the outside indicate at what position you come across this letter when looking from that side (e.g. C2 means the C is the second letter encountered when looking from that side).