Balabolka este un program de tipul Text-În-Voce (Text-To-Speech : TTS) care poate folosi toate vocile de sinteza instalate pe computerul Dvs. Programul poate citi conţinutul clipboard-ului şi textul din fişierele AZW, AZW3, CHM, DjVu, DOC, EML, EPUB, FB2, FB3, HTML, LIT, MD, MOBI, ODP, ODS, ODT, PDB, PDF, PPT, PPTX, PRC, RTF, TCR, WPD, XLS si XLSX. Textul afişat pe ecran poate fi salvat ca un fişier WAV, MP3, MP4, OGG sau WMA şi ascultat ulterior. În Balabolka se pot personaliza fontul de afişare a textului şi culoarea de fundal. Pentru o utilizare mai uşoară se poate controla citirea din sistaler ("system tray") sau prin taste rapide globale.
| | | |
| --- | --- | --- |
| | | Balabolka foloseşte mai multe versiuni ale interfeţei de programare numită Microsoft Speech API (SAPI); cu ajutorul ei softul poate să modifice parametrii vocii, inclusiv viteza şi tonalitatea. Utilizatorul poate folosi un tabel de substituire a sunetelor sintetizate pentru a îmbunătăţi calitatea articulării de către vocea folosită de program. Această facilitate este utilă dacă se doreşte modificarea pronunţiei cuvintelor. Regulile pentru corectarea pronunţiei folosesc expresii regulate. |
Mărime fişier: MB
Versiune: Changelog
Licenţă: Gratuită (Freeware)
Sistem de operare:
Versiune portabilă: Descarcă ( MB)
Portable Balabolka does not require an installation and can be run from a USB drive.
A computer must have at least one voice installed.
Console Application: Descarcă ( KB)
The console application contains no graphical user interface and works only from the command line.
The program handles various command line parameters to be able to read text aloud or save as an audio file.
Text Extract Utility: Descarcă ( MB)
The program allows to extract text from the various types of files. The extracted text can be combined into one file or/and split into few files. The utility works from the command line, without displaying any user interface.
Command Line Utility for Online Text-To-Speech Using: Descarcă ( MB)
The program converts text or subtitles to audio files by using of online TTS services: Google, Amazon, Baidu, IBM Watson, Microsoft, Naver, Youdao.
Command Line Utility for Yandex SpeechKit Using: Descarcă ( MB)
The program converts text or subtitles to audio files by using of the Yandex service.
To perform operations via the Yandex API, it is necessary to authenticate using an API-key.
* Balabolka este un cuvânt rusesc, care poate fi tradus ca "trăncănitor".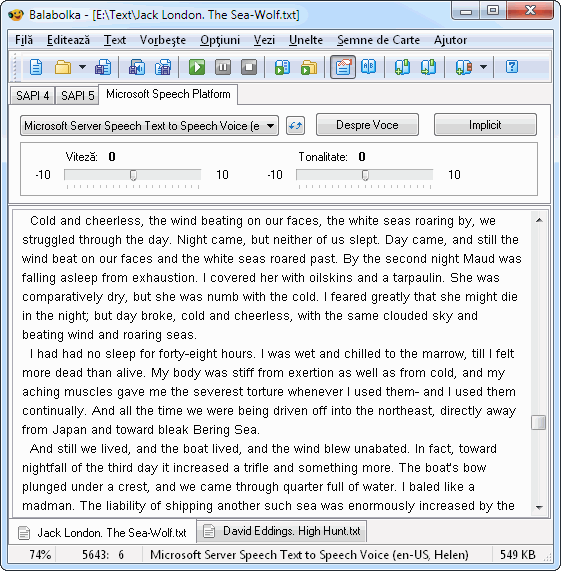 Balabolka poate folosi teme ("skins") care permit personalizarea aspectului ferestrei principale.
Descarcă Pachetul de Teme (6.7 MB, 107 de teme)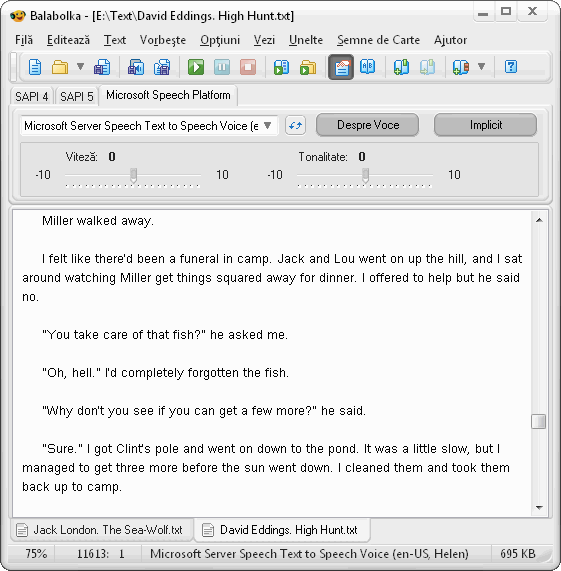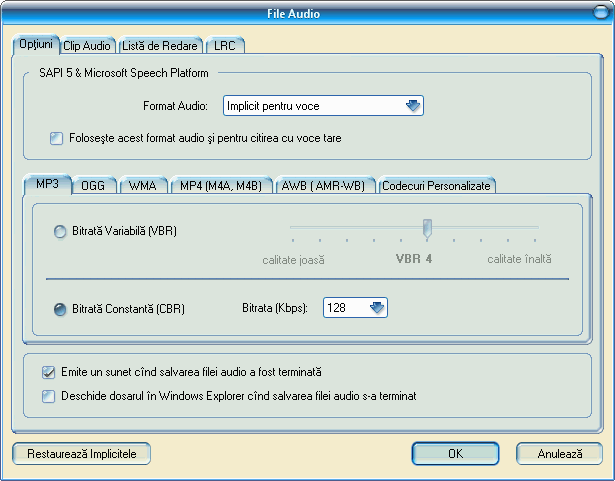 Voci
SAPI 4
All voices for SAPI 4 became obsolete; they are not recommended for installing anymore.
Use the fresh versions of speech engines.
SAPI 5
Dacă doriţi o calitate mai bună a vocilor puteţi cumpăra motoare de sinteză vocală contra plată.
Voci Comerciale de Calitate Superioară:
Microsoft Speech Platform
The Microsoft Speech Platform allows developers to build and deploy Text-to-Speech applications. The Microsoft Speech Platform consists of a Runtime, and Runtime Languages (engines for speech recognition and text-to-speech). There are separate Runtime Languages for speech recognition and speech synthesis. The version of the Runtime Languages must match the version of the Speech Platform that you installed.
Use the following steps to install the Microsoft Speech Platform (version 11.0):
Download and install the Speech Platform Runtime
(the file 'x86_SpeechPlatformRuntime\SpeechPlatformRuntime.msi').
Download and install Runtime Languages for use with the Speech Platform
(files with names starting with 'MSSpeech_TTS_').
The Microsoft Speech Platform provides support for 26 languages for speech synthesis. XML tags can be used both for SAPI 5 and the Speech Platform.
Verificarea ortografiei
Programul utilizează dicţionare Hunspell pentru a verifica ortografia (hunspell.github.io). Hunspell este un program gratuit pentru a verifica ortografia; Hunspell este utilizat în pachetul de aplicaţii pentru birou OpenOffice.org si în browser-ul Mozilla Firefox.
Dicţionare pentru Windows pot fi descărcate de aici:
Balabolka allows to use the spell checking built in operating system. The Spell Checking API is available beginning with the Windows 8.