Le ofrecemos el programa para solucionar crucigramas, rompecabezas de palabras, criptoaritmos y otros tipos de pasatiempos lógicos (Sudoku, Nonograma, Kakuro, Hitori, etc.).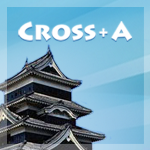 Ofrece Cross+A medios de búsceda muy potentes y flexibles. El usuario puede buscar palabras por letras y descripciones, así como encontrar anagramas y frases. El programa usa la base de datos con más que 159000 palablas en inglés y sus descripciones. Se puede redactar la base de datos: añadir palabras, borrar y modificar las descripciones (se usa el verificador ortográfico). El usuario puede importar (insertar) a la base del programa cualquieras palabras de sus ficheros de texto y crear propias bases de palabras. En el sitio web del programa se puede cargar las listas de palabras para otros idiomas (alemán, francés, español y otros). Contiene el programa una lista de proverbios y dichos.
Cargar el fichero:
Versión:
Licencia: Shareware
Sistema operativo:
Idiomas:
español, alemán, checo, croata, eslovaco, finés, francés, holandés, hungaro, inglés,
italiano, letón, polaco, portugués, rumano, ruso, ucraniano
Ficheros de ayuda: alemán, francés, inglés, polaco, ruso
Pasatiempos
Cross+A sirve para solucionar y crear pasatiempos lógicos de muchos varios tipos:
Sudoku
9 x 9, 6 x 6, 8 x 8, 10 x 10, 12 x 12, 15 x 15, 16 x 16, Sudoku X, Argyle Sudoku, Jigsaw Sudoku (Kikagaku Nanpure), Godoku (Wordoku), Asterisk Sudoku, Girandola, Center Dot, Windoku, Sudoku-DG, Anti-Knight Sudoku, Anti-King Sudoku, Anti Diagonal Sudoku, Killer Sudoku, Greater Than Sudoku, Even-Odd Sudoku, Consecutive Sudoku, Kropki Sudoku, Sukaku, Chain Sudoku, Frame Sudoku, Skyscraper Sudoku, Trípode Sudoku, Mine Sudoku, Sujiken, Sudoku XV, Outside Sudoku, Rossini Sudoku, Samurai Sudoku, Flower Sudoku, Sohei Sudoku, Kazaguruma, Butterfly Sudoku, Cross Sudoku, Gattai-3, Twodoku, Triple Doku, Twin Corresponding Sudoku, Hoshi, Star Sudoku, Tridoku.
Nonograma ("Hanjie", "Griddler")
Kakuro ("Cross Sums")
Hitori
Slitherlink
Link-a-Pix ("Paint by Pairs")
Fill-a-Pix ("Mosaic")
Batalla naval ("Battleships")
Hashiwokakero ("Bridges")
Masyu ("White Pearls and Black Pearls")
Akari ("Light Up")
Fillomino
Futoshiki ("Unequal")
Kuromasu ("Where is Black Cells?")
Nurikabe ("Islands in the Stream")
Sashikabe
Yajikabe
Tents ("Tents and Trees")
Calcudoku
Hidato ("Hidoku")
Numbrix
Shikaku ("Divide by Squares")
Galaxies ("Tentai Show")
Rascacielos ("Skyscrapers")
Hakyuu ("Ripple Effect")
Grand Tour
Easy as ABC ("ABC End View")
Nubes ("Clouds")
Yajilin ("Arrow Ring")
Buscaminas ("Minesweeper")
Minesweeper Battleships ("Battlemines")
Heyawake
Tenner Grid ("From 1 to 10")
Centena ("Hundred")
Flechas ("Arrows")
Mathrax
Str8ts
Buscalíneas ("Linesweeper")
Binairo ("Tohu wa Vohu")
Paredes ("Walls")
Dominosa
Patchwork ("Tatami")
Cnosos
Rekuto
Vecinos ("Neighbours")
Cuatro vientos ("Four Winds")
Shakashaka
Kakurasu
Mochikoro
Puertas ("Seethrough", "Doors")
Faros ("Lighthouses")
Lighthouse Battleships
Tapa
Fobidoshi ("El cuatro está de más", "Forbidden Four")
Island
Dominion
Tren
Tres en una fila ("No Four in a Row")
Corral
Cuatro casillas ("Foseruzu")
Sutoreto ("Straight Cross")
Renban
Buraitoraito ("Bright Light")
Irasuto ("Illustration")
Suguru ("Number Blocks")
Trinudo
Creek
Gappy
Norinori
Yonmasu
Ladrillos ("Bricks")
Cadena de números ("Number Chain")
Kapetto ("Set Carpets")
Renkatsu
Eulero
Anraikumozaiku ("Unlike Mosaic")
Kurotto
Tasukuea
Batalla de estrellas ("Star Battle")
Araf
Kabingurodo ("Curving Road")
Termómetros ("Thermometers")
Serpiente ("Snake")
Peintoeria ("Paint Area")
Irupu ("I-Loop")
Sashigane
Chocona ("Chocolate")
Diferentes vecinos ("Different Neighbours")
LITS
Nanbaboru ("Number Ball")
Tairupeinto ("Crazy Pavement")
Yin-Yang
Nanro
Luz y sombra ("Light and Shadow")
Arukone ("Number Link")
Tetroid
Sukima ("Sukimaburokku")
Triplets
Korekutokonekuto ("Correct Connection")
Doppelblock
Furisuri ("Free Three")
Yagit
Purenrupu ("Pure Loop")
Firumatto ("Fillmat")
Nawabari
Makaro
Dosun-Fuwari
Satogaeri
Koburin
Sukrokuro
Shirokuro
Roma
Bodaburokku ("Border Block")
Kuroshuto
Toichika
Usotatami
Pipelink
Hakoiri
Nuribou
Tatamibari
Sol y Luna ("Sun and Moon")
Kojun
Usowan
Gokigen Naname
Hebi-Ichigo
Hamle
Gyokuseki
Kin-Kon-Kan
Ichimaga
Shimaguni
Meadows
Yajisan-Kazusan
Snake Pit
Hiroimono
Water Fun
Round Trip
Number Cross
Santoitchi ("Tres y uno")
Hamusando ("Ham Sandwich")
Trace Numbers
Area Division
Sukoro
EntryExit
Sign In
Kuroshiro
Moonsun
Rectslider ("Rectangle-Slider")
Stostone
Kohi Gyunyu ("Coffee Milk")
Mirukuti ("Milk Tea")
Slash Pack
Nurimaze
Canal View
Country Road
Nondango
Mintonette
Arrow Maze
Arrow Web
Hanare
Oases
Rabbits and Trees
Stars and Arrows
Kanjo
Rukkuea ("Look-Air")
Golem Grad
Trilogy
Grades
Hukuwall
Nurimisaki
Starry Night
Douieru
Tetoron
Sasikaku
Heki
Castle Wall
Deddoanguru ("Dead Angle")
Endorain ("End Line")
Nuraf ("Araf Nurikabe")
Miti
Arofuro ("Arrow Flow")
Every Second Turn
Mobiriti ("Mobility")
Mubunanba ("Move Number")
Terra X
Rimotoejji ("Remote Edge")
Double Back
Wamuzu ("Worms")
Kaero
Kapama nuevo!
Yunikumaka ("Unique Marker") nuevo!
Meandering Numbers nuevo!
Yokibunkatsu nuevo!
Scrin ("Screen") nuevo!
Word Finder
Nueve letras ("Nine Letters")
Telaraña ("Spider Web")
Laberinto ("Maze")
Descargas
Puede cargar las listas de palabras en:
| | |
| --- | --- |
| Proverbios y dichos: | Sinónimos y antónimos: |
Verificación de ortografía
Para verificar ortografía usa el programa Cross+A los diccionarios de Microsoft Office 97/2000. Si no está instalado Microsoft Office 97/2000 en su ordenador o está instalado una otra versión del producto, Usted puede cargar el módulo de verificación de ortografía del nuestro sitio web.
Hunspell (hunspell.github.io) es un corrector ortográfico y un analizador morfológico diseñado para idiomas con una morfología rica y codificación de carácteres o palabras compuestas complejas, diseñado originalmente para el idioma húngaro. Hunspell es el corrector ortográfico de OpenOffice.org, LibreOffice y Mozilla Firefox.